Time Square is at the very heart of Warrington's
leisure and business hub. The new development will
set the standard for future growth within Warrington.
Warrington town centre is readily accessible to the wider catchment via excellent road connections, Warrington Central and Warrington Quay Bank train stations offering direct routes to Manchester and Liverpool, as well as a bus network carrying almost 9 million passengers per year using a fleet of 102 buses.
Warrington is 4th in the top ten Cities for business and enterprise. Centre for Cities
CACI Demographics
Warrington has a rich fabric of affluent shoppers, executive wealth and mature money which reside across the core and the wider catchment.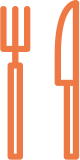 Time Square will increase Warrington's catering market potential by 14% to £68.5m. Warrington will become a top ten dining destination in the North West, a rise of three places.
33%
of the catchment are from the Affluent Achievers or Rising Prosperity Acorn groups, versus 27% for the North West.
Warrington's catchment reaches towards Liverpool in the West, Manchester to the East and Chester to the South.

Warrington is in the top 2% of retail locations in the UK.
9%
market share of the total catchment.

Average annual household catering spend of £1,497 - 3% ahead of the regional average.
Warrington has jumped from 54th place in (2008-09) to 10th in the Centre for Cities annual health check of UK cities, Cities Outlook